Charlotte Alumnae Chapter
Social Action Strategic Partnerships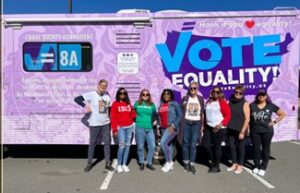 Black Political Caucus of Charlotte Mecklenburg (BPC)
BPC: https://www.bpc-charlotte.com/political-action/
BPC works to transform communities using collective votes, electing the right candidates, influencing policy, and educating the citizenry. Additionally, BPC urges local, state, and federal elected officials to actively advocate for fair maps in all elections.
League of Women Voters of Charlotte Mecklenburg (LWVCM)
LWVCM: https://www.lwv.org/local-leagues/lwv-charlotte-mecklenburg
The LWVCM is a non-partisan grassroots organization working to protect and expand voting rights.

Equal Rights Amendment – North Carolina Alliance (ERA-NC)
ERA-NC: https://www.era-nc.org/ 
The ERA-NC is a non-partisan organization working to protect women's rights – in particular – equal pay and voting.