Women's Symposium
The Whole Woman: Balancing Career and Lifestyle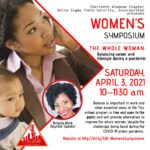 April 3, 2021 at 10:00 a.m, Join the Charlotte Alumnae chapter and keynote speaker Brigida Mack for a morning of embracing the whole woman,  Learn about tools and resources focused on spirituality, physical and mental health, and financial health.
Register today 
Red Pages: Women in Business Directory
The Economic Development Committee will produce the chapter Red Pages, a directory
of chapter members who own their own business.
Send the following information to economicdevelop-ment@charlottedst.org. to be added to the next directory.
Member Name
Business Name
Contact Information
Chapter Member Promos (optional)
Wills and Estate Planning
An annual event to share important details on understanding/creating a will, estate planning, probate, and more. Planning for the future can be overwhelming. Learn from our panel of experts about resources to ensure your family is protected.