Cotillion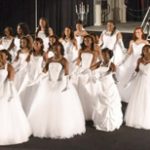 The Debutante Cotillion is sponsored by the Charlotte Alumnae Chapter of Delta Sigma Theta Sorority, Incorporated in partnership with the Deltas of Charlotte Foundation. Young women who are seniors in high school are given the opportunity to participate in various sorority sponsored workshops and awareness programs. The participants are introduced to many facets of their respective communities which provides exposure and a foundation that will assist in making them productive citizens. Additionally, the program provides an opportunity for participants to earn money towards post-secondary education. The young ladies are presented to the community at an annual ball in the Spring.
For questions and more information, email deltadebutante@gmail.com.
General Requirements
Must be a graduating female high school senior
Must have a cumulative GPA of 2.5 or higher on your current transcript.  The transcript must be signed by a school official, scanned, and emailed to deltadebutante@gmail.com.
Does not have children
Has no disciplinary actions within the past two years
Completes and submits a debutante application and letters of recommendation by the stated deadline.
Financial Obligations
Activity Fee – $175.00.  This fee covers all virtual and in-person activities for participants in the Cotillion.  The non-refundable fee is due at the Get Acquainted session on September 27, 2020.
Presentation Fee – $750.00.  In the event there is a 2021 cotillion event, the fee is required to be presented at the Debutante Cotillion Ball.  This amount counts towards your scholarship.
Scholarships
Minimum amount raised to receive a scholarship – $2,500.00
The top fundraiser will be crowned Miss Debutante and the next three highest fundraisers will be in the Debutante Court.
Legacies are daughters, granddaughters and/or sisters of Deltas. They are classified as non-competitors and cannot compete for the title of Miss Debutante. Legacies are eligible for scholarships.  The top legacy fundraiser will be named Miss Legacy.