Since its founding in 1913, Delta Sigma Theta Sorority, Inc. has been committed to Literature and the Creative and Performing Arts. One of our Founders, Osceola McCarthy Adams, a distinguished actress, was one of the first Black actresses on Broadway.  She was the Director of the Harlem School of the Arts and directed theatrical debuts of Harry Belafonte and Sidney Poitier. Deltas have been and will continue to be leaders within the Arts.
The Arts & Letters Commission was established in 1973 by Delta's 15th National President, Lillian Pierce Benbow. She appointed Dr. Jeanne Noble, Delta's 12th National President, as the Commission's 1st Chair. Leontyne Price and Lena Horne were the first Honorary Chairs. Its continued mission is to boldly advance the Black experience by highlighting the artistic contributions of African-American people of the past and present, elevating them to public attention.
The duty of the Charlotte Alumnae Chapter's Arts & Letters Committee is to stimulate interest in and educate members of the sorority and the broader community in the Arts and other cultural enrichment activities.  Our focus is on promoting, fostering, cultivating, perpetuating, and preserving the Arts & Letters of African Americans in Fine, Literary, Abstract, Visual, and Performing Arts.

Jazz Brunch
The Arts and Letters JAZZ BRUNCH was born on October 1, 2017, and was the then Arts and Letters Committee chairs' brainchild. It was "Celebration of the Arts," recognizing several local Arts movers and shakers. The featured artist was saxophonist Adrian Crutchfield.  The event was so popular that it had become an annual signature event for Art & Letters. The 2018 Jazz Brunch featured sax man Dante Lewis, and the honorees were Charlotte JazzArts Leaders, Ocie, and Lonnie Davis. In 2019, Adrian Crutchfield returned as the featured artist, and two principal Charlotte Ballet dancers were awardees. The Fourth Annual Jazz Brunch – a virtual event – to be held in early 2021, will honor local Arts achievers and benefit Charlotte Alumnae Chapter scholarships.

Red Carpet Events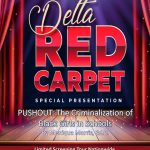 The National Delta Sigma Theta Arts and Letters Commission initiated Delta Red Carpets and DSTv. Local Delta chapters are encouraged to host Red Carpet events for suggested premiers of nation-wide movies, performances, TV shows, and other cultural noteworthy Arts events. Charlotte Alumnae Chapter's Arts & Letters Committee has and will continue to host Red Carpet events. Stay tuned for when you can walk the next Delta Red Carpet!

Book Club
The Charlotte Alumnae Chapter's Arts & Letters Committee established a book club many years ago. The book club has grown each year since then and reads 4-5 books during the sorority year. Most book club discussion sessions are for sorority members. However, recently the community has been invited to participate in some of its book club sessions. 2021 the book club is becoming the Literary Cafe'
Literary Café: Queen City Renaissance
Join eight Delta authors for intriguing discussions, workshops, and a virtual book fair. The event is FREE and open to the community with ADVANCE registration –
Register now
Authors scheduled are:
Δ Shanna Greene Benjamin, Ph.D.
Δ Dr. Kendra K. Ham
Δ Dr. Tierini Hodges-Murad
Δ Nettie Lark
Δ Dr. Monique May
Δ Stacey Price Brown, Ph.D.
Δ Tiffani Teachey
Δ Winnye Wilks
Δ Special guest; Poet She-Salt